Detailed Information

Description
Nasir Al-Molk Mosque
Nasir-Ol Molk Mosque is one of the most ancient mosques of Shiraz and undoubtedly one of the most beautiful sites in Iran. Nasir-Ol Molk Mosque, also known as the Pink Mosque or Rainbow Mosque, looks like an ordinary Islamic mosque at first sight, but as the sun rises, the art of architecture turns the mosque into a huge kaleidoscope. Sunlight, passing through mosaic windows, paints the walls and floor carpets with hundreds of colors. Magic will vanish in a couple of hours, so plan your visit for an early morning.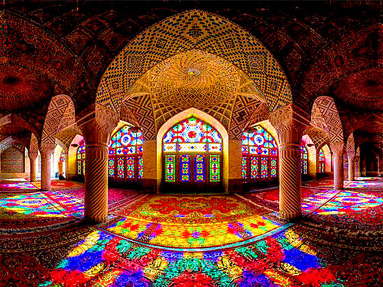 Location of Nasir-Ol Molk Mosque
Nasir-Ol Molk Mosque is located in a region in the southern part of Lotf Ali Khan Zand Street. When in this area, you can visit many attractions that their antiquity dates back to the Zand dynasty. They are Vakil Bazaar, Vakil Bath, Karim Khan Citadel, Pars Museum, Atiq Jameh Mosque, Shah Cheragh, and Tomb of Hafez. Do not forget to add them to your long scroll of attractions you are going to visit.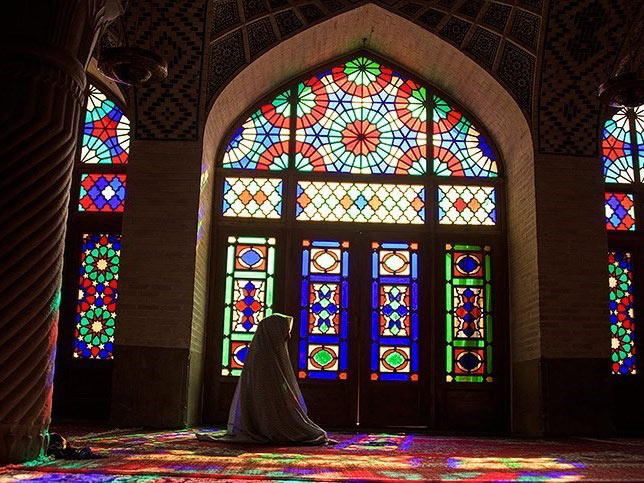 History of Nasir-Ol Molk Mosque
In 1876, Mirza Hassan Ali Khan who was famous to be called Nasir-Ol Molk, Fars province ruler, decided to leave a mosque as a memory of himself for the next generations. He was the son of Ghavam-Ol Molk and one of Qajar noblemen and known to be a just and fair ruler. Accordingly, he constructed the mosque and the construction was finished after 12 years in 1925. But there were no glasses with distinct colors or special doors and windows until 1969 when these beauties were added to the structure of the mosque by Haj Mirza Ayat.
This mosque used to contain a mosque, a house, a bath, and a storehouse. However, a huge part of it included an indoor space, an entrance to the house, bath, water storage, and the space between the mosque and the house was totally destroyed when Lotf Ali Khan Zand Street was being built.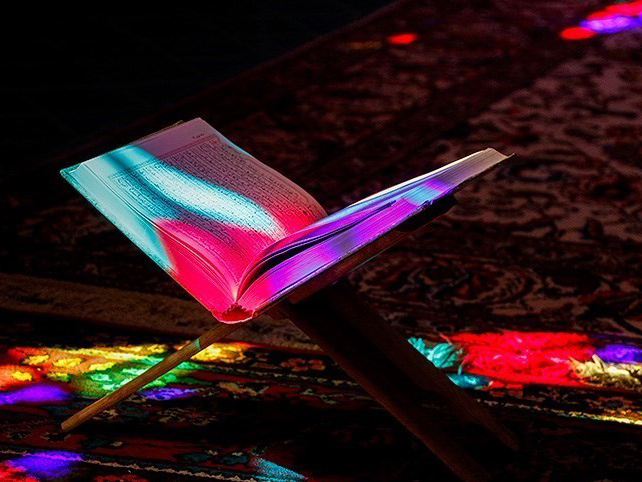 Architecture of Nasir-Ol Molk Mosque
Nasir-Ol Molk Mosque is 2216 square meters and is built on a 2890-square-meter underpinning area. One of the most prominent features of the mosque is its tiling and muqarnas and is the most precious mosque in this regard.
An interesting point about Nasir-Ol Molk Mosque is that unlike all Iranian mosques, it lacks a dome and it is representative of the fact that it was a personal structure and the majority of the people did not go to this mosque.
The tiling of this mosque is extremely spectacular and unique. Nowhere else in the whole world can you find a tiling of this sort. Another point that is the cause of this magnificence is the employment of pink as the dominant color which is not used in any other mosques of Iran.
The use of colorful glasses that catches the eye in every single part of the mosque is quite unrivaled and its delicate architecture that changes the sunlight into colorful strings of light has brought majesty to the mosque.
The ceiling of each floor is also decorated with European paintings. Do not miss them while visiting Nasir-Ol Molk Museum. All you need to do is to raise your head!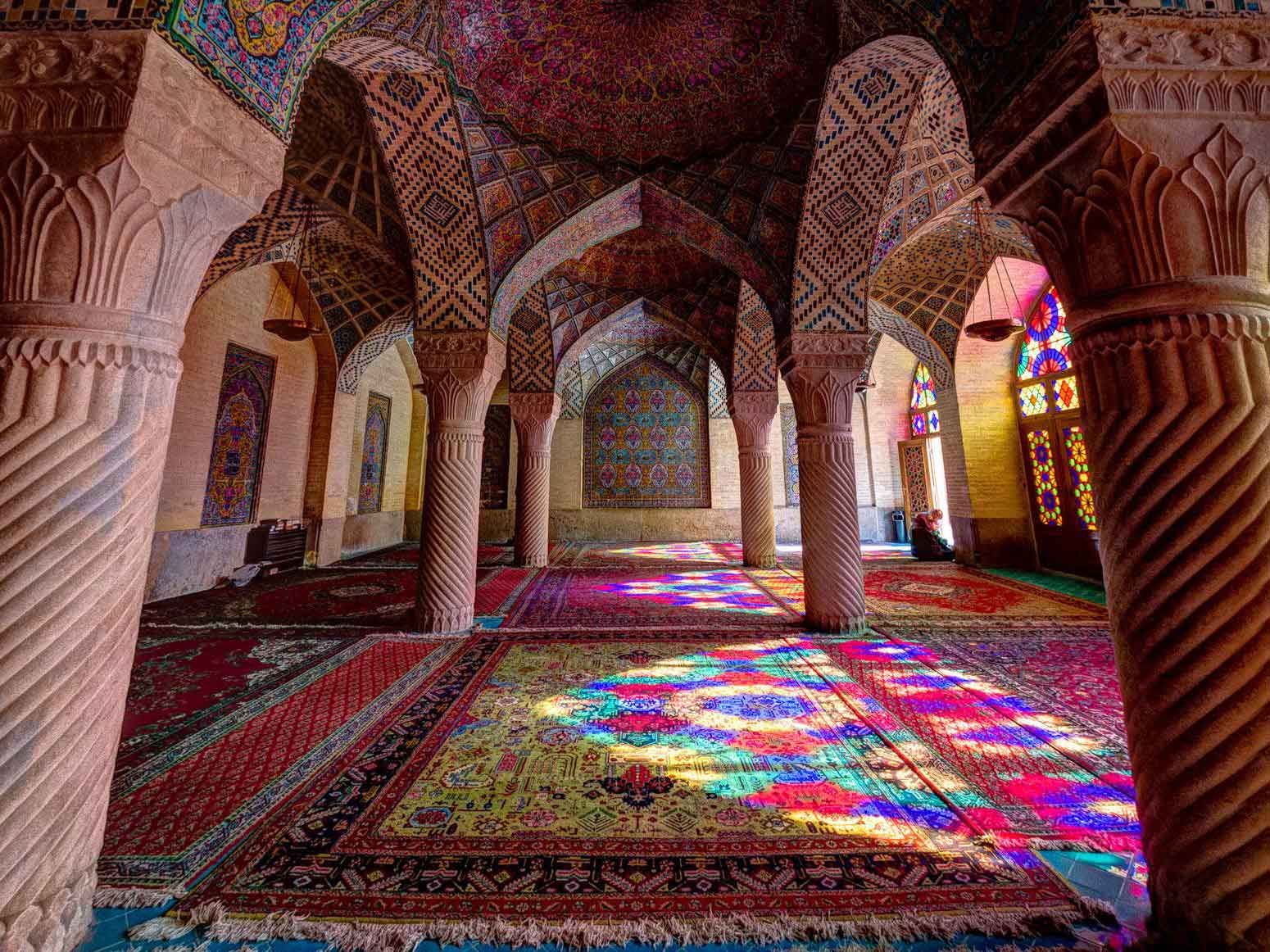 When to Visit Nasir-Ol Mosque
The best time to visit Nasir-Ol Molk Mosque is in the middle of autumn until the middle of winter. This is due to the oblique sunlight angle that makes the most perfect light conditions for taking photos. To take your ideal photo, you should also be an early bird and be in the mosque at 7:00 to 9:00 a.m. as the maximum amount of light is available within this time span. Furthermore, if you want to take a breath-taking photograph of the Pearl Arch, you should visit the mosque in the afternoon since the light directly shines on it and gives out such a perfect view.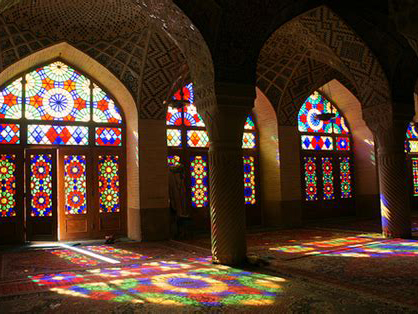 Where to Eat near Nasir-Ol Molk Mosque
Haft Khan Restaurant, Dash Akol Traditional Restaurant, The Orangery Restaurant, Vakil Traditional Restaurant, Quattro Restaurant, Hezar Dastan Traditional Restaurant, and Ghazaye Darbari are the nearby restaurants in which you can enjoy having delicious meals after your visit.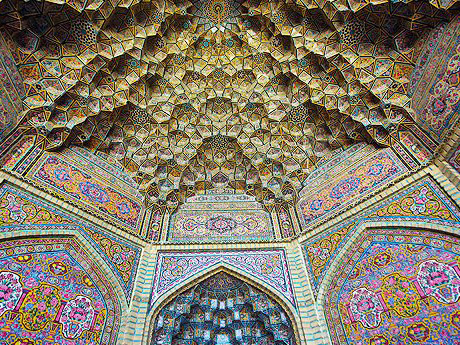 Where to Stay near Nasir-Ol Molk Mosque
Parhami Traditional House, Golshan Traditional Hostel, and Raz Traditional House are the places around Nasir-Ol Molk Mosque in which you can spend some nights.
Contact me to book a photo
email: info@aminmalekzadeh.com
aminphotographer1@gmail.com
Mobile: +98-939-940-4168